Pinecone Ridge is the ridge that runs from Scott Hill, across the top of Asia Bowl, and down to Park City. The ridge separates the Park City portion of the Park City ski area from the Canyons Village portion.
The skiing on the south (Brighton-facing) side of the ridge is usually poor due to the southern exposure. This slope is sometimes referred to as Asia Bowl, because it is east of USA Bowl. Pinecone Ridge provides easy access to runs along the Summit County ridgeline including Fat City Condos, Scott's Bowl, Radar Love, and the No Name Bowls.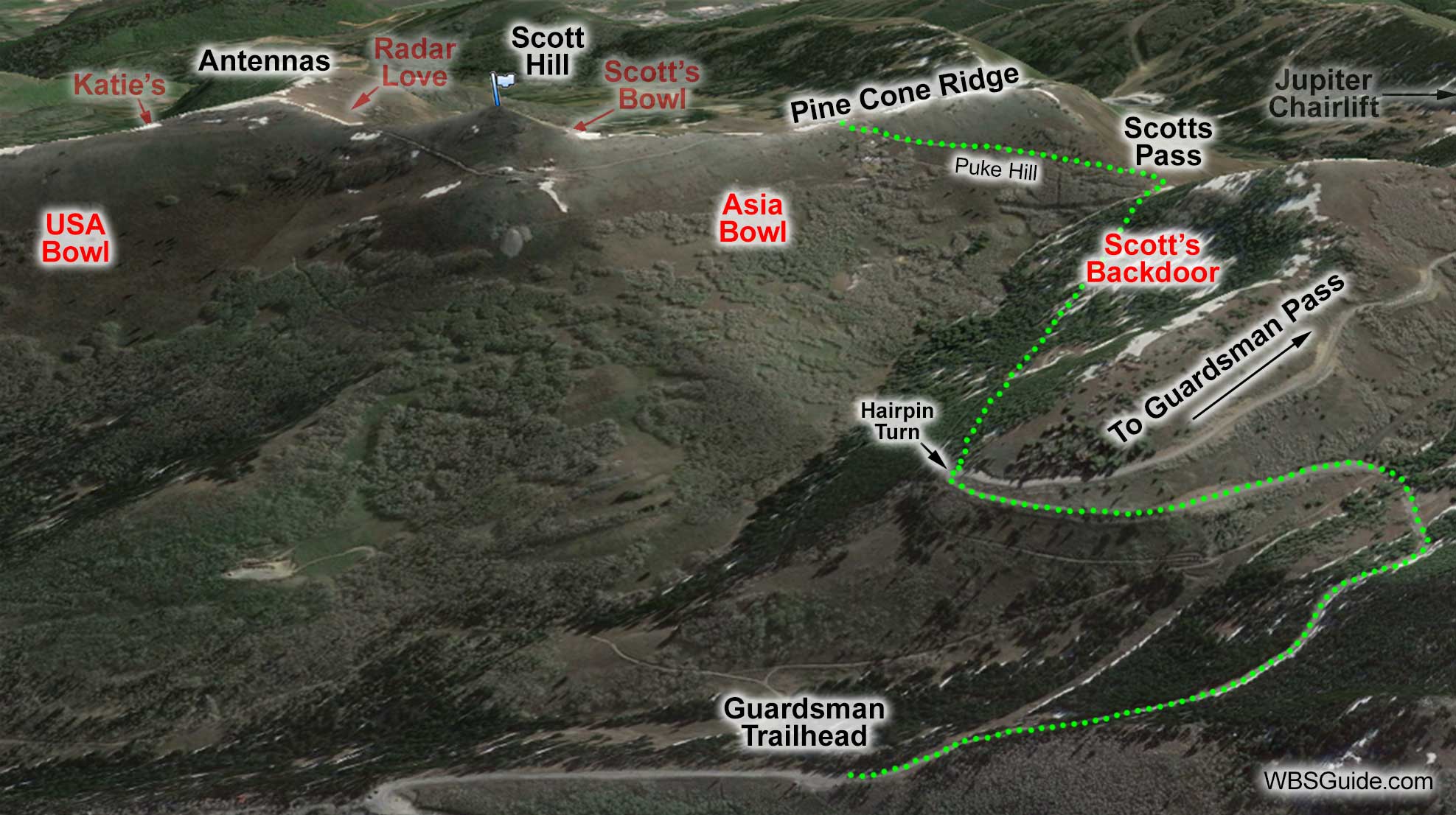 Getting to Pinecone Ridge
Pinecone Ridge from Guardsman
Trailhead
Guardsman Gate
Trailhead Elevation
8,900'
Ridge Elevation
~9,900'
Total Vertical
900'
Skinning Distance
2.5 miles
Online Map
View on wbskiing.com
From the Guardsman winter gate, skin one mile up the road to a right-hand hairpin turn. (Stay near the side of the road to avoid the snowmobilers.) Take the access road which leaves the main road on the left side of this hairpin turn (there is a gate about 200 feet up the access road). Follow that road as it crosses below Scott's Backdoor, goes to Scotts Pass (which overlooks Jupiter Bowl at the Park City ski area), and continues to Pinecone Ridge. (The trail from Scotts Pass to Pinecone Ridge is affectionately called "Puke Hill" by mountain bikers.)
Returning to the trailhead does require some poling on the flat-ish access and Guardsman roads. This makes the route little less enjoyable for snowboarders who will probably end up doing some walking.
From Summit County, the easiest route to Pinecone Ridge is to ride Park City's Jupiter chairlift and ascend what Park City calls West Scott's Bowl.
About the name
People who ski on the Park City side of the mountains tend to think of Pinecone Ridge as being entirely in Summit County. That's probably where the name originated. People on the Salt Lake side of the mountains tend to think of Pinecone Ridge as the much shorter ridge above Asia Bowl. The name Pinecone Ridge now refers to the ridge all the way from Scott Hill to the Park City valley.