USA Bowl
Drainage
Mill F East Fork
Terrain
Open Bowl
Ridge Elevation
9,800'
Bottom Elevation
9,000'
Typical Vertical
800'
Location
40.6286° / -111.5739°
Online Map
View on wbskiing.com
USA Bowl is in Mill F East Fork (which is a rarely used name) across from the Solitude ski area. When viewed from the south (e.g., Brighton or Solitude), you can see that the trees create an outline of the United States. Scott Hill is the "northeastern" location (i.e., Maine).
USA Bowl is exposed to the southwesterly winds and sun, so the snow is often sub-par. And the upper ridgeline is frequently thin and windblown, but after a storm, USA Bowl can be epic. The south-facing exposure often one of the earlier corn harvests in the spring.
The trees get a bit snug near the bottom and you may find the best egress is on (or adjacent to) the uptrack.
USA Bowl is rarely prone to avalanches and the Utah Avalanche Center classifies it as green if you "avoid the terrain east of the Mississippi" which is exposed to steeper terrain and frequently avalanches.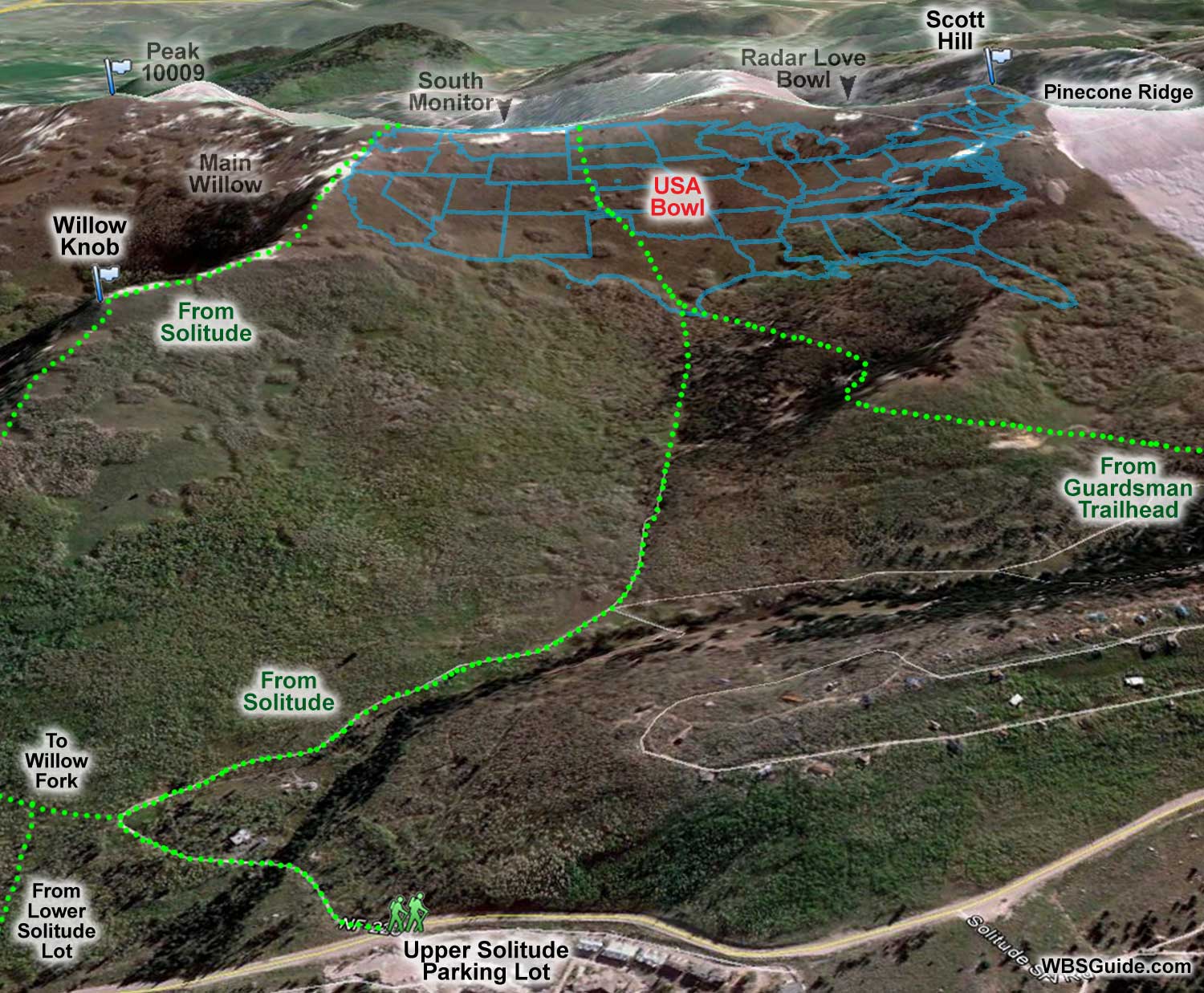 Getting to USA Bowl
USA Bowl from Solitude
Park near the Solitude Entry #2 parking lot and head up the private Old Stage Road on the north side of the Big Cottonwood road. (If you park near the Solitude Entry #1 parking lot, cross the road and skin up and to your right until you intersect Old Stage Road.) After less than 10 minutes on Old Stage Road, the road turns sharply to the right and a skin track leaves the left side of the road and heads into Willow Fork. Stay near the road as it turns right.
After about 10 more minutes you should see a skin track going up a Jeep-like road on your left. Take it. (If you instead reach a road named Stellar Jay Way and see a blond log home on your right, turn left at that "intersection.") Both of these starting points head up a shallow drainage into an aspen glen. Continue to follow the skin track up this shallow drainage and you'll come out of the trees somewhere near the southern tip of Texas. Head up USA Bowl to Canada (or stop in North Dakota if the snow is too scoured).
If you hustle you can go from your car to the Canadian border in about an hour. It is relatively easy to go car-to-car in under two hours.
USA Bowl from the Guardsman Gate
USA Bowl from the Guardsman Gate
Trailhead
Guardsman Gate
Trailhead Elevation
8,900'
Ridge Elevation
9,800'
Total Vertical
900'
Skinning Distance
1.5 miles
Online Map
View on wbskiing.com
Although it requires less vertical to reach USA Bowl from the Guardsman winter gate, you'll need to reapply your skins to get back to your car at Guardsman. The route is straightforward: ski down from the Guardsman gate to a meadow, put on your skins and traverse up and to your left. As shown on the above photo, you should arrive somewhere near Texas.
If you parked at Guardsman, you'll want to hang left as soon as you leave the states to get back to your car.
About the name
As mentioned above, USA Bowl gets its name due to the outline of its shape. Although predominantly known as USA Bowl, a few old timers call this Sunny Bowl.