Scott's Backdoor
Terrain
Glades, Trees
Location
40.6147° / -111.5618°
Online Map
View on wbskiing.com
Scott's Backdoor is located on the "access" road that leads from the Guardsman road to Scotts Pass. The lower portion of Scott's Backdoor has low-angle terrain that is in the mid-to-upper-teens. These slopes have wide open glades. The upper slopes are in the 24° to 32° range and are a combination of glades and tree skiing. This info table refers primarily to the lower slopes.
Scott's Backdoor is a fairly short run, but its sheltered slopes can provide great meadow-skipping runs. If you're headed toward Scotts Pass, you might as well sneak in a run on the Backdoor.
Although off-limits to snowmobiles, there are almost always snowmobile tracks in Scott's Backdoor. There are also snowmobile tracks along the ridgeline above Scott's Backdoor, but that ridgeline is shared with Summit County where snowmobiles are allowed.
Getting to Scott's Backdoor
Park at the Guardsman trailhead and follow the directions to Scotts Pass. After about 45 minutes and before you get to Scotts Pass, you will see low-angle glades on your right. Entry points to these glades continue for about a third of a mile (almost to Scotts Pass). You can head up any of these glades, although the best skiing is probably closer to the pass. You can stop at the top of the low-angle glades or continue up the slightly steeper terrain to the peak.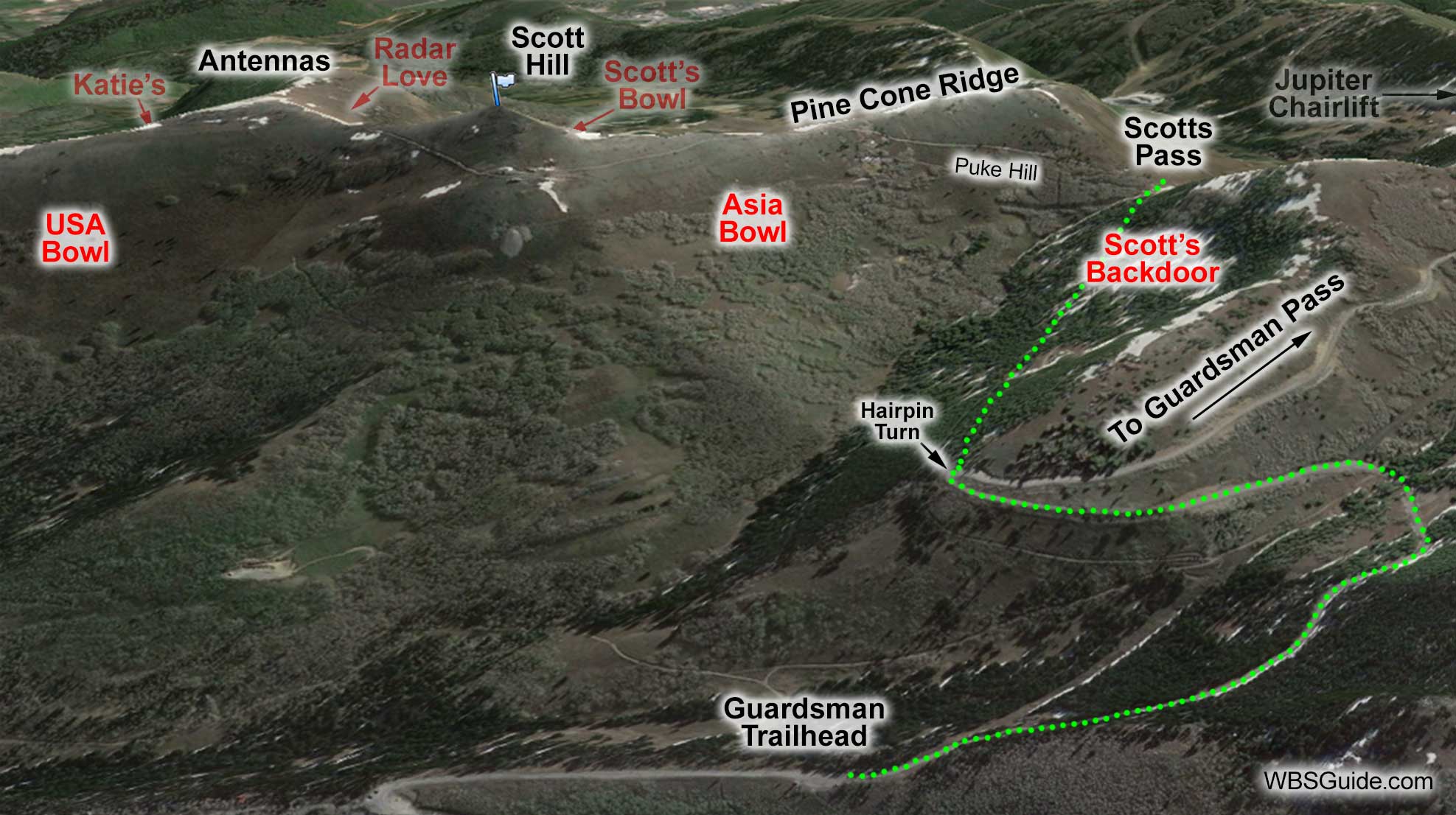 Scott's Backdoor from Guardsman
As mentioned in the directions to Scotts Pass, coming back down the access road is a little flat and requires some poling (or walking if you are on a snowboard).
About the Name
Grammaticians who are concerned that Scott's Backdoor and Scott's Bowl have apostrophes whereas Scotts Pass is missing an apostrophe can relax. The USGS doesn't use apostrophes on names, so I don't when publishing names that appear on USGS maps. However, I do use apostrophes for possessive names that were created by backcountry users. Thus, I'm consistently inconsistent.