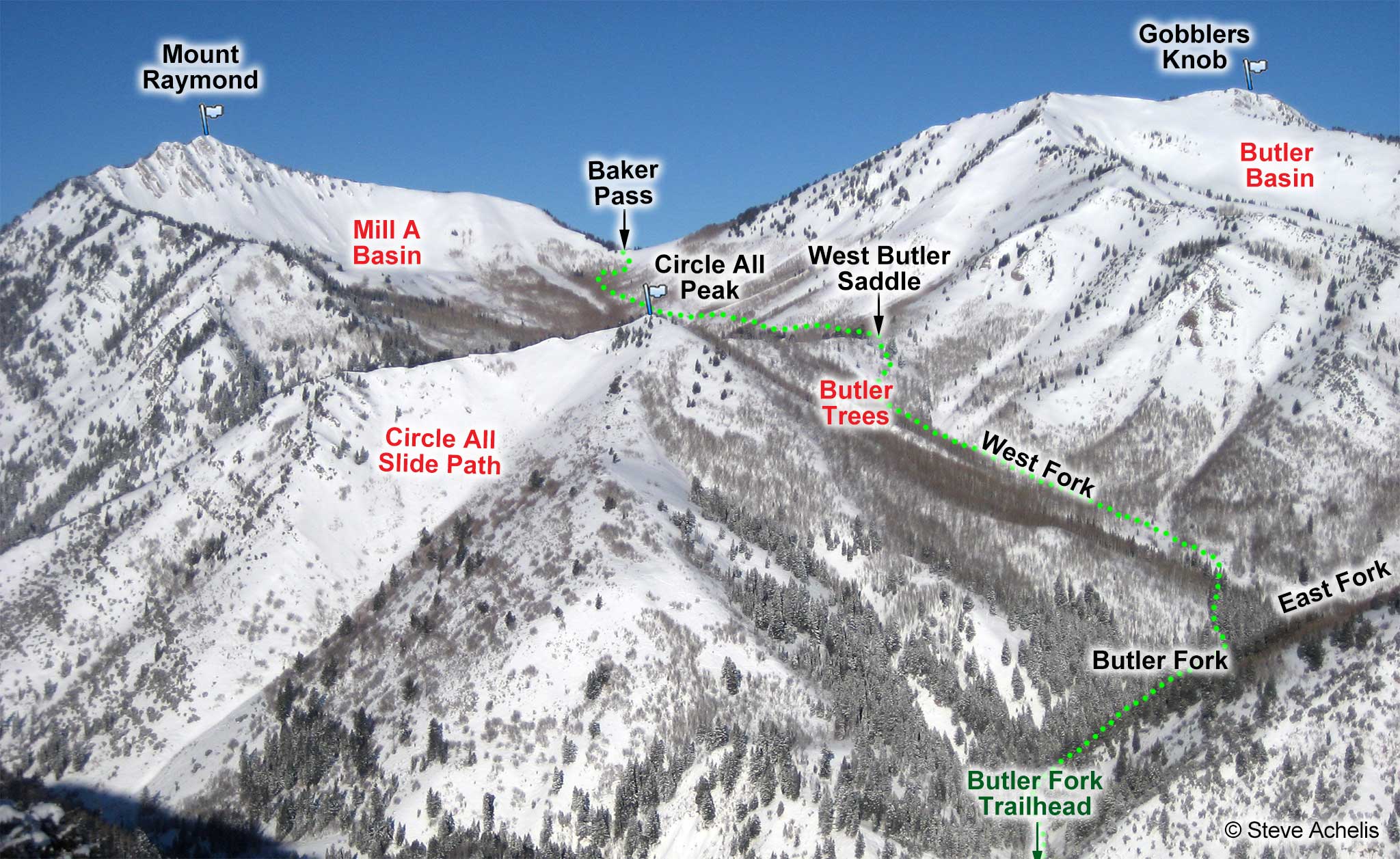 Getting to Baker Pass from Butler Fork
Baker Pass from Butler Fork
Baker Pass from Butler Fork
Trailhead
Butler Fork
Trailhead Elevation
7,130'
Pass Elevation
8,560'
Total Vertical
1,430'
Skinning Distance
2.5 miles
Online Map
View on wbskiing.com
Park at the Butler Fork trailhead. The Butler Fork trail begins on the left side of the creek but immediately crosses and continues along the right bank. The first 10 minutes are exposed to a steep (40°+) west-facing slope.
Approximately 20 minutes after leaving the trailhead, the Butler Fork trail splits (sometimes only the more popular left branch is visible). The right (east) branch goes up the East Fork toward Butler Basin and Dog Lake. The left (west) branch heads up the West Fork toward Circle All and the West Butler Saddle.
Cross over the West Butler Saddle into Mill A Gulch. Traverse the looker's right side of Mill A Gulch until you reach Baker Pass. During this traverse you will be exposed to significant avalanche terrain, including White Snake.
Baker Pass from Mill A Gulch
Baker Pass from Mill A Gulch
Trailhead
Mill A Gulch
Trailhead Elevation
7,000'
Pass Elevation
8,560'
Total Vertical
1,600'
Skinning Distance
2.4 miles
Online Map
View on wbskiing.com
Approaching Baker Pass from the Mill A trailhead is straight forward, although some years parking has been prohibited at the base of Mill A Gulch.
About the name
Baker Pass is sometimes called Gobblers Pass or Raymond Pass, but hikers (and skiers) have been calling it Baker Pass for decades. The pass is named after the Baker Mine and Baker Spring which are about a mile northeast of the pass.