The entire western slope of Silver Fork is referred to as the Meadow Chutes. It's big, broad, and beautiful.
The terrain closer to the ridgeline is wide open and tree-less. The terrain closer to the valley bottom is steeper and a little cliffy. The slope angle shown in this info table is more representative of the open areas near the ridgeline and is not representative of the more complex and avalanche-prone terrain, below. In fact, Ricardo Presnell died in an avalanche near here on January 27, 2010. The site of his death is referred to as Ricardo's Roll.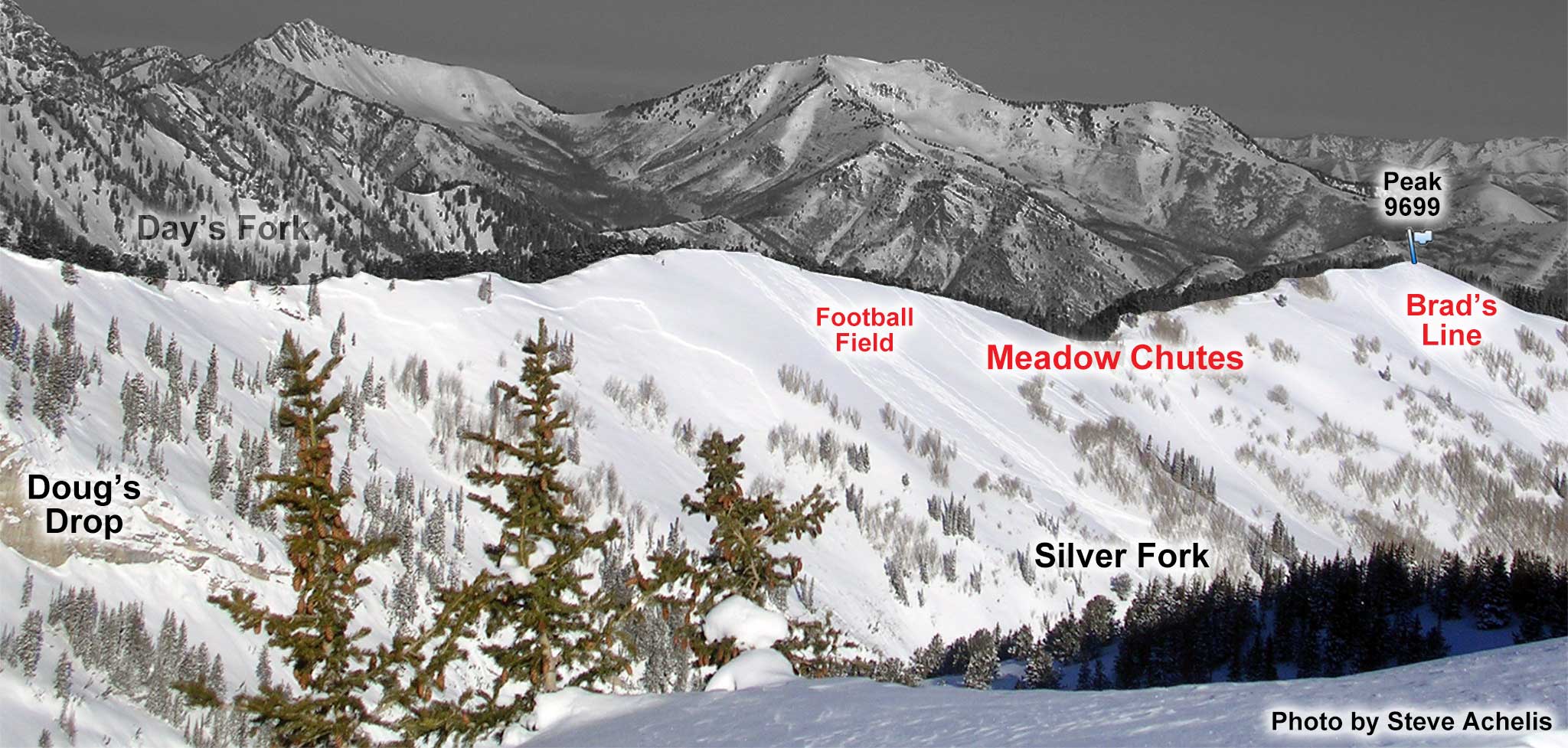 Getting to Meadow Chutes
The basic route to the Meadow Chutes is to follow the directions to the top of Brad's Line (i.e., Peak 9699) and then continue up the Silver Fork ridgeline. You can drop in anywhere along the way, but keep in mind that some lines get steeper (or cliffy) as they near the bottom of the drainage.
Another option is to follow the directions into Silver Fork from Big Cottonwood Canyon, pass the infamous outhouse (after about 30 minutes), and then look for, or set, a skin track heading up to the ridge (i.e., bypassing Brad's Line).
About the name
The Meadow Chutes encompasses everything between Doug's Drop and Brad's Line (see the above photo). The area labeled Football Field in the above photo (a newer name) is part of the Meadow Chutes. Some people mistakenly call the Meadow Chutes, The Meadows, but that isn't the name.
The term "Chutes" in Meadow Chutes is a bit of a misnomer, maybe intentionally, because the terrain primarily consists of modest gullies rather than steep chutes.