Mount Tuscarora
Summit Elevation
10,640'
Summit Location
40.5839° / -111.5989°
Online Map
View on wbskiing.com
Mount Tuscarora is located between the Alta and Brighton ski areas. It is north of Catherine Pass and east of Mount Wolverine.
The west side of Tuscarora is called "Catherine's Area" on the Alta ski map, the north side offers Chute X and Chute Y which descend into Tuscarora Bowl, and the east side has the inspiring The Seagull chute which is clearly visible from tower #9 on Brighton's Crest chairlift.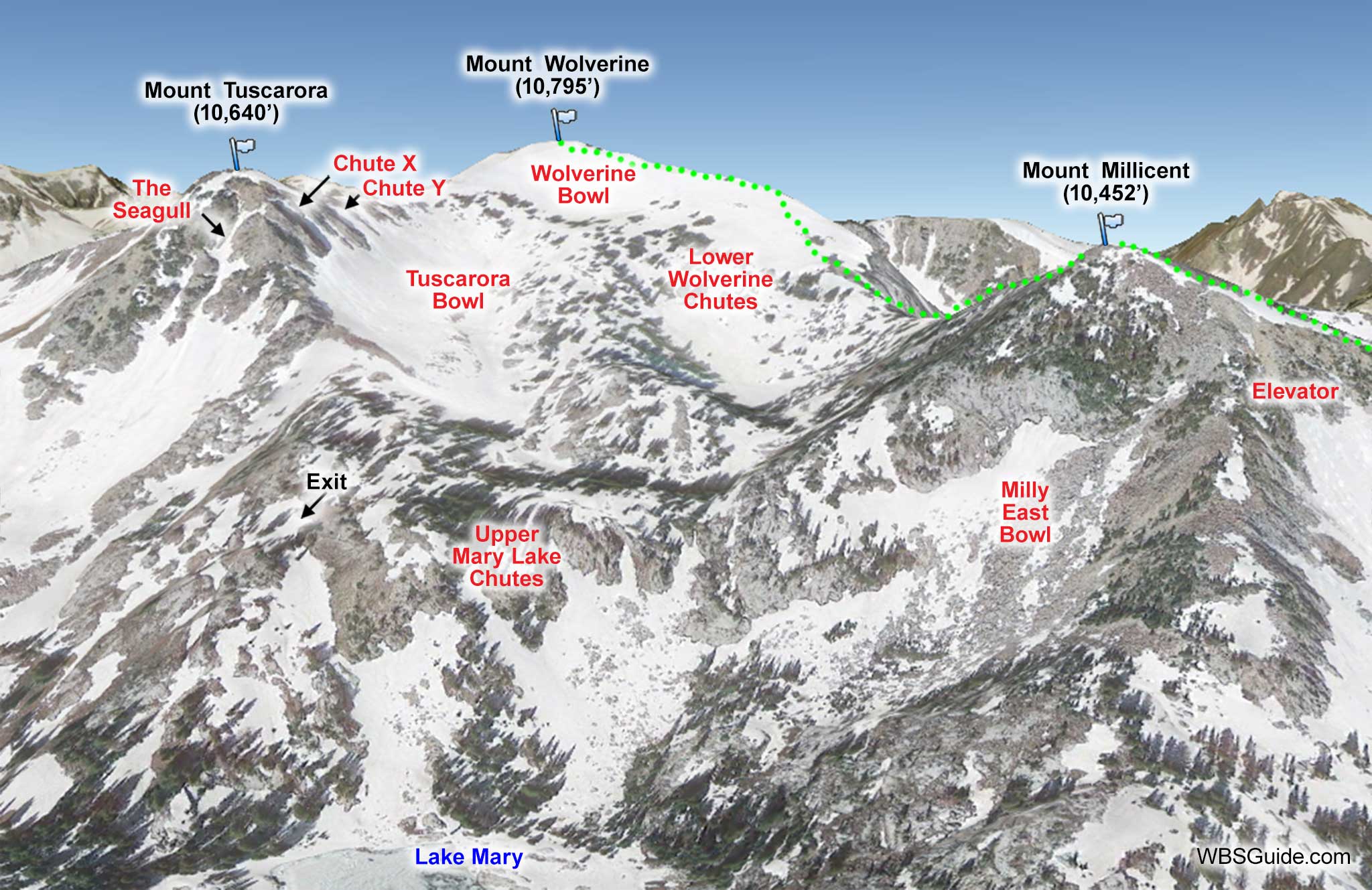 Mt. Tuscarora, Mt. Wolverine, and Mt. Millicent above Lake Mary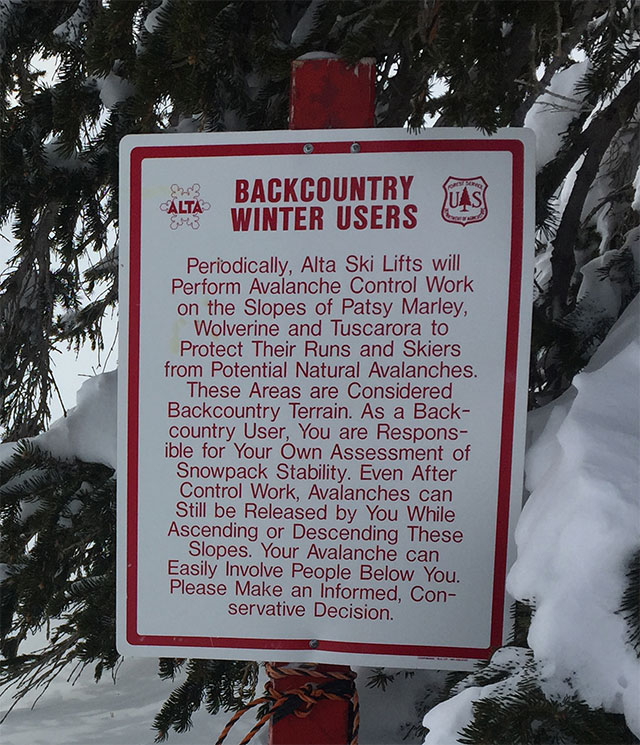 As mentioned in this sign, Alta does perform some avalanche control work on Mount Tuscarora. I think this is mostly done on the side facing the ski resort.
Getting to Mount Tuscarora
You can get to Tuscarora from Catherine Pass (either via the Grizzly Gulch trailhead or Alta's Supreme chairlift) or from Brighton's Milly chairlift.
To get to Mount Tuscarora from Brighton, ride the Milly chairlift, exit the Milly backcountry gate, boot up the ridge to the summit of Mount Millicent, and ski down the ridge toward Wolverine Bowl. When you reach the low point on the ridge (just above Tuna Chute), put on your skins and traverse across the bottom of Wolverine Bowl (at about tree-line as shown in the photo, below) to Mount Tuscarora.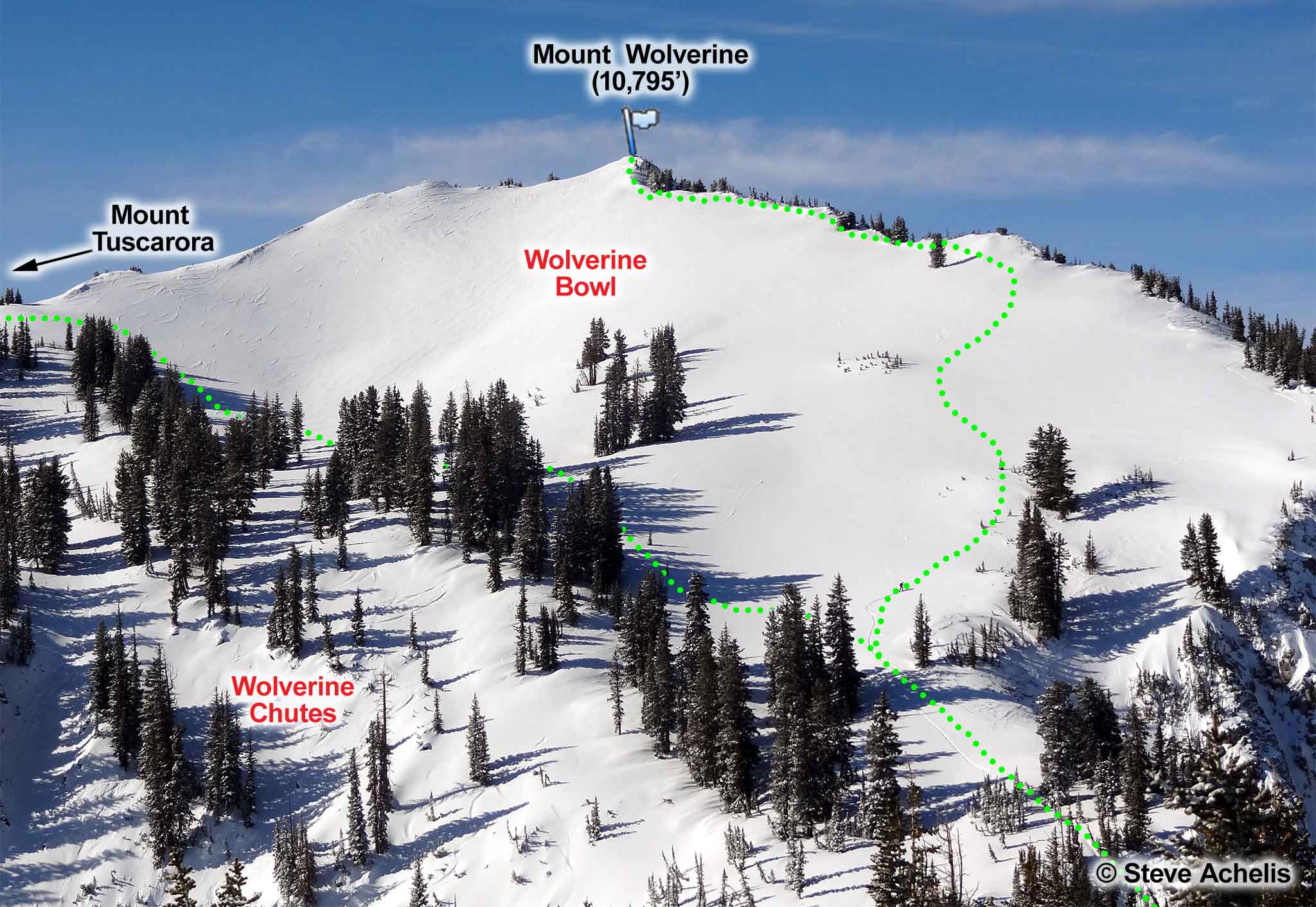 Traverse Across Wolverine Bowl to Mount Tuscarora