Tom's Hill (run)
Drainage
Mill D North Fork
Terrain
Open Glade
Upper Elevation
9,040'
Lower Elevation
8,550'
Typical Vertical
500'
Location

40.6618° / -111.6352°

Online Map
View on wbskiing.com
Tom's Hill is a small hill in Mill D North Fork. The slope on the southeast side of Tom's Hill is named Weathering Heights.
Tom's Hill run is on the northeast side of Tom's Hill. It provides great skiing, albeit short, through an open glade nestled in fir trees. Its relative proximity to the road, gentle slope, and good snow make it a popular destination. It's easy to sneak in a run on Tom's Hill after skiing the East Face of Reynolds.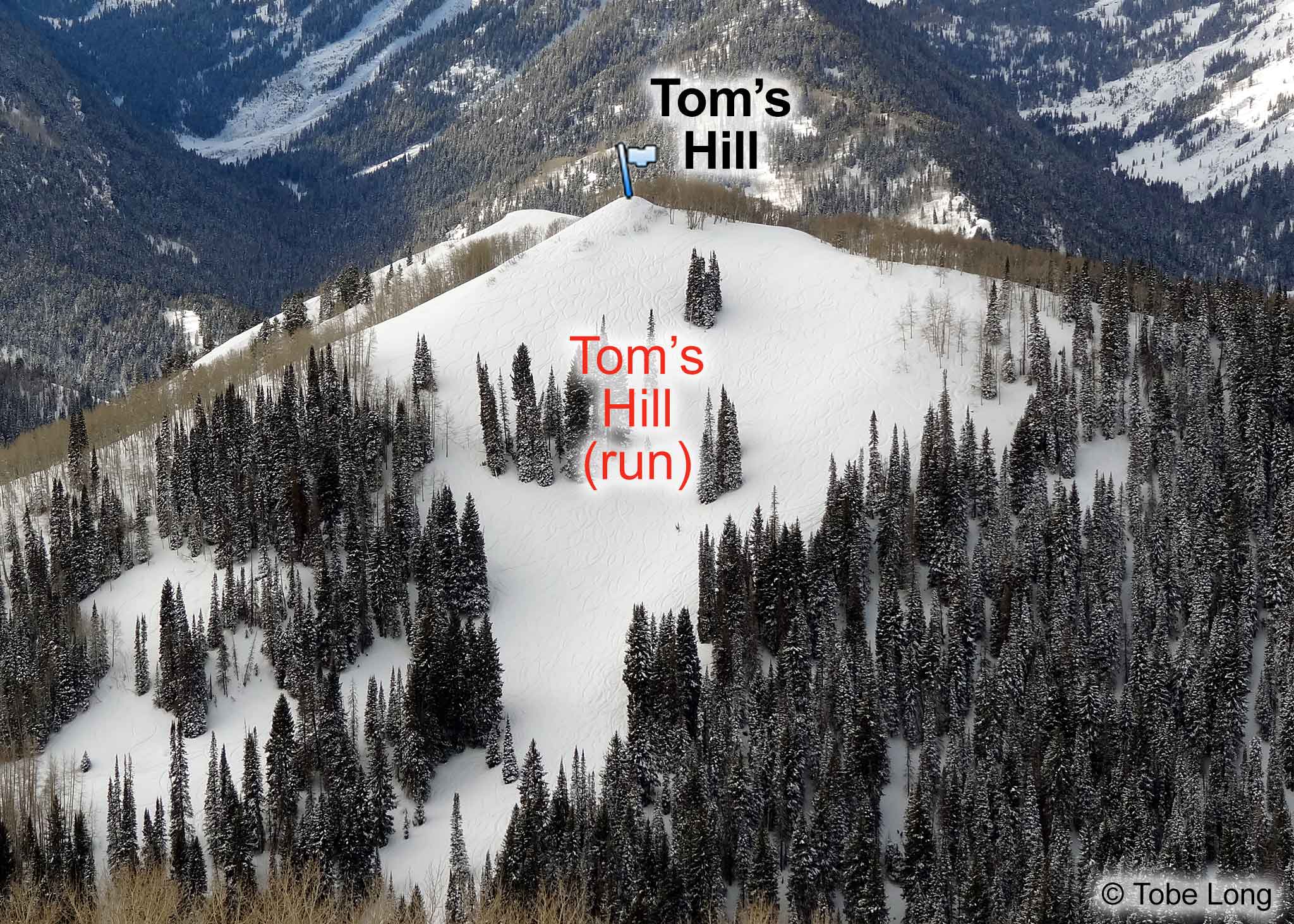 Getting to Tom's Hill
Tom's Hill from Spruces Trailhead
Summit Elevation
9,040'
Summit Location
40.6604° / -111.6363°
Trailhead
Spruces Trailhead
Trailhead Elevation
7,350'
Vertical Ascent
1,900'
Skinning Distance
2.4 miles
Online Map
View on wbskiing.com
Follow the directions to Mill D North Fork from the Spruces trailhead. When the trail splits between Dog Lake and Lake Desolation, take the left-hand branch toward Dog Lake. Approximately five minutes after the split, and ~10 minutes before reaching Dog Lake, the main track makes a gentle right-hand turn. The normally-present and well-smashed trail departs from the main track on the left side of this turn, crosses a tiny gully, and heads up to the summit of Tom's Hill.
About the name
Although many people suspect that Tom's Hill is named after the Utah Avalanche Center's Tom Kimbrough, when asked, Tom told me, "I was a late arrival to the Wasatch (winter of '82-83) and that name was already in place. I have no idea who that Tom was."