Rochester Ridge is on the back-side of the Brighton ski area, between the Snake Creek and Caribou Basin drainages.
There are great beginner and intermediate runs on both sides of Rochester ridge, although descending the upper portion of the ridge requires that you weave through tight trees. The runs on the skier's-left side of the ridge descend into Caribou Basin. These runs are steeper (35° to 40°), are more avalanche prone, and include The Other Runs and The Other Other Runs. The runs on the skier's-right side of Rochester have a southwestern aspect and descend into Snake Creek. These runs are mostly low-angle beginner terrain and include Nondairy Creamer and Big Daddy's.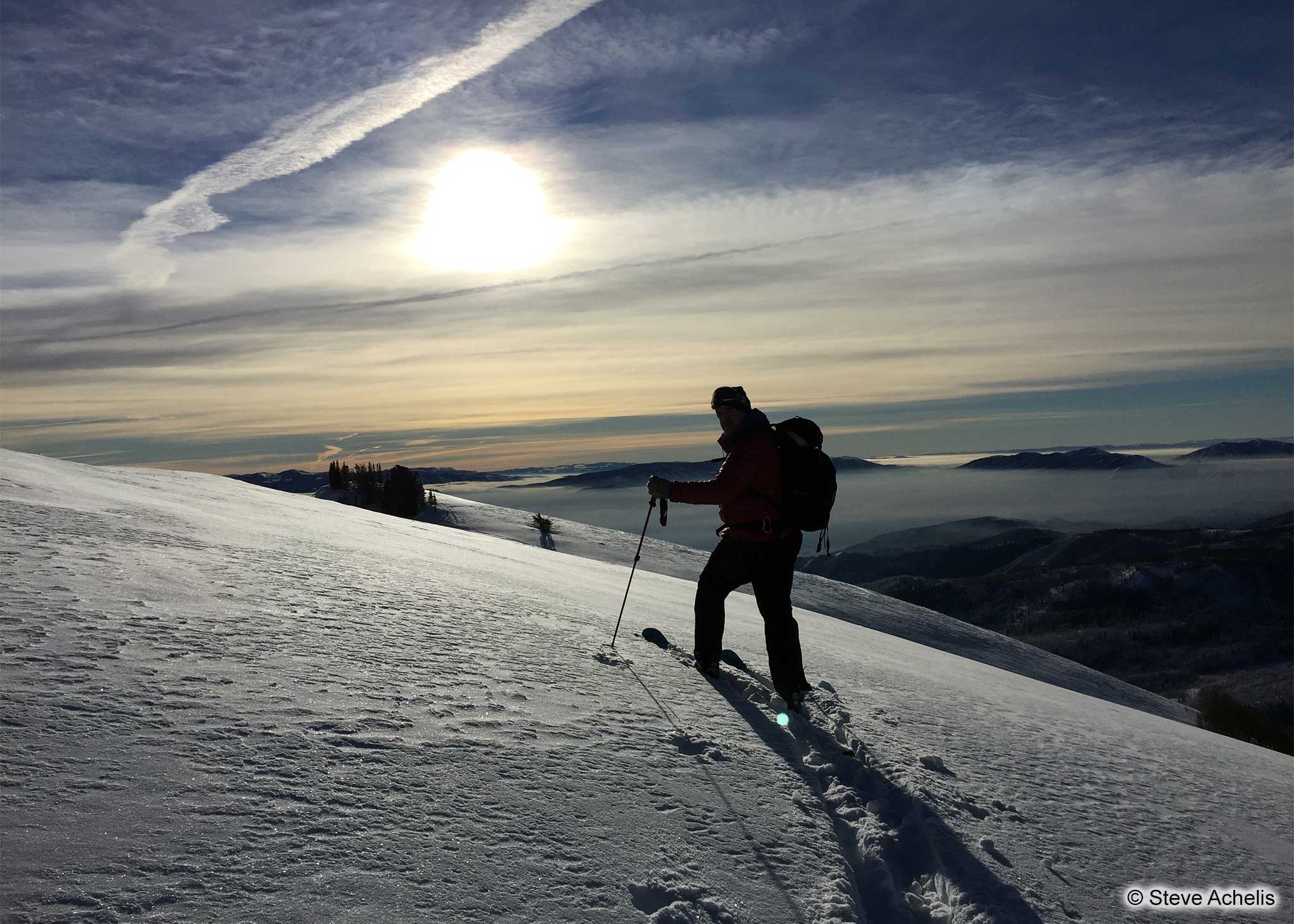 Heading South Near Rochester Ridge
Rochester Ridge is about 50 feet to the left of the skier in this south-facing picture. He is standing at the top of Nondairy Creamer. The treed-knob in the distance is at the top of The Other Runs and Big Daddy's.
Getting to Rochester Ridge
From the top of the Brighton's Great Western chairlift, head down the Western Trail cat track toward the Snake Creek chairlift. A few hundred feet before the Western Trail reaches Brighton's Sunshine run (and before Snake Creek Pass), there is a small knoll on the left. Sidestep or boot up the 100 vertical feet to the top of the knoll (it is preferable to climb this without putting on your climbing skins, because you'll be going downhill shortly). Rochester Ridge extends southward from this knoll.
Climbing the 800 vertical feet back up the ridge after a day of skiing, while threading your way through the snug trees, can be slightly challenging for a novice.