Honeycomb Canyon is really named Honeycomb Fork, but Solitude's moniker is now much more prevalent. It is located west (down-canyon) of the Solitude ski area. Silver Fork, which is also west of Solitude, splits after about three-quarters of a mile with Honeycomb heading to the left (east) and Silver Fork continuing to the right (west).
Honeycomb Canyon is included in this backcountry ski guide with reservation. Up until 2002, Honeycomb was sidecountry terrain. With the addition of the Honeycomb Return chairlift, Honeycomb is now fully within the Solitude resort. Bummer. I've included Honeycomb in this guide for pre- and post-season skiing (and because I first wrote this before 2002). Including Honeycomb is also a good reminder of how our mountainous terrain is slowly but steadily being consumed by ski areas. You can't un-ring the bell of ski area expansion—every win is temporary and every loss is permanent.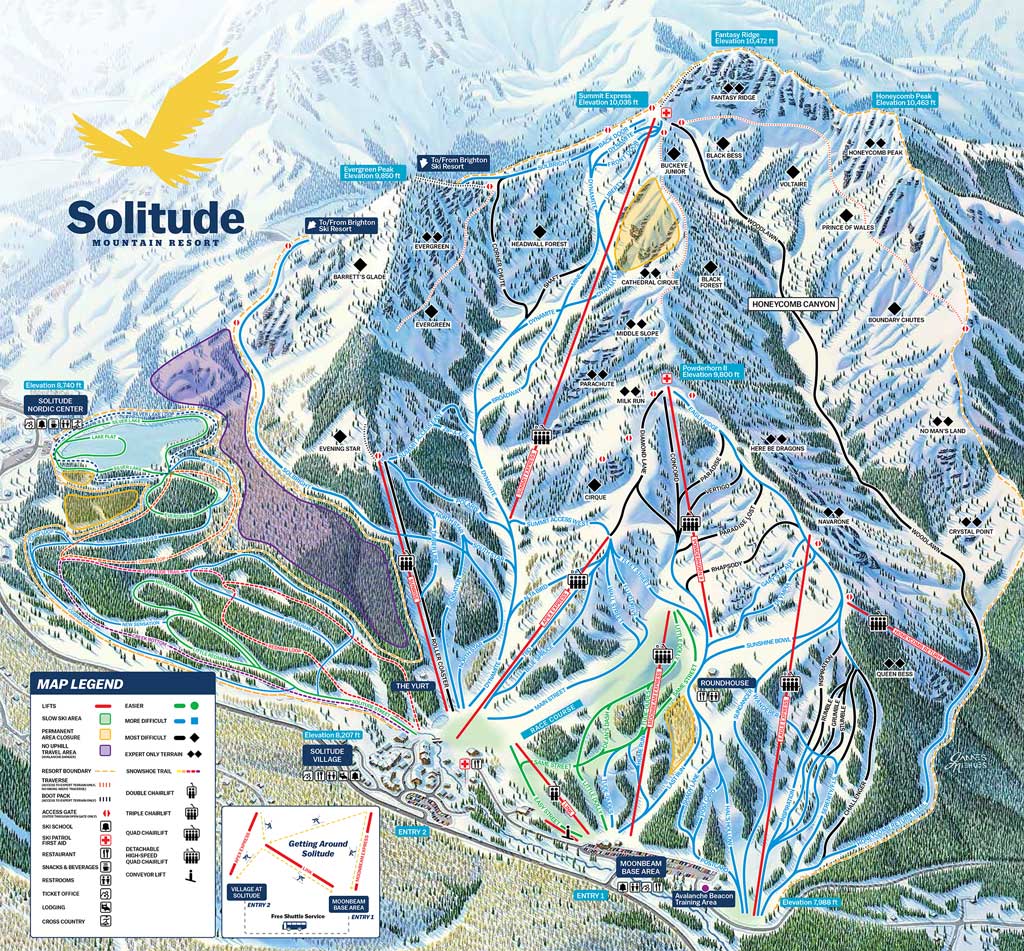 Solitude Trail Map
The runs along the east side of Honeycomb Canyon include Queen Bess, Navarone, Here Be Dragons, Black Forest, and Buckeye Junior. These runs are typical black and double-black diamond ski-area runs, with Navarone and Here Be Dragons being the more difficult. The runs along the west side of Honeycomb Canyon include Voltaire, Prince of Wales (named after a mine), Boundary Chutes, No Man's Land, and Crystal Point.
From the top of Solitude's Summit chairlift you can boot the ridge to access seriously crazy skiing in the massive Honeycomb Cliffs. The classic run being the Cwm Chute.
Getting to Honeycomb Canyon
To access Honeycomb Canyon, park at the west end of the lower Solitude parking lot, cross under the Eagle Express chairlift, and head up the Honeycomb Return trail. Uphill traffic is forbidden on this trail when the lifts are open.
About the Name
The USGS, Hiking the Wasatch, and the Wasatch Ski Atlas all correctly call this Honeycomb Fork. However, Solitude calls it Honeycomb Canyon which is now the de facto, albeit imprecise, name. I use it with resignation.