Alta Ski Resort
Base Elevation
8,530'
Resort Location
40.5889° / -111.6388°
Road Mileage
9.2 miles
Online Map
View on wbskiing.com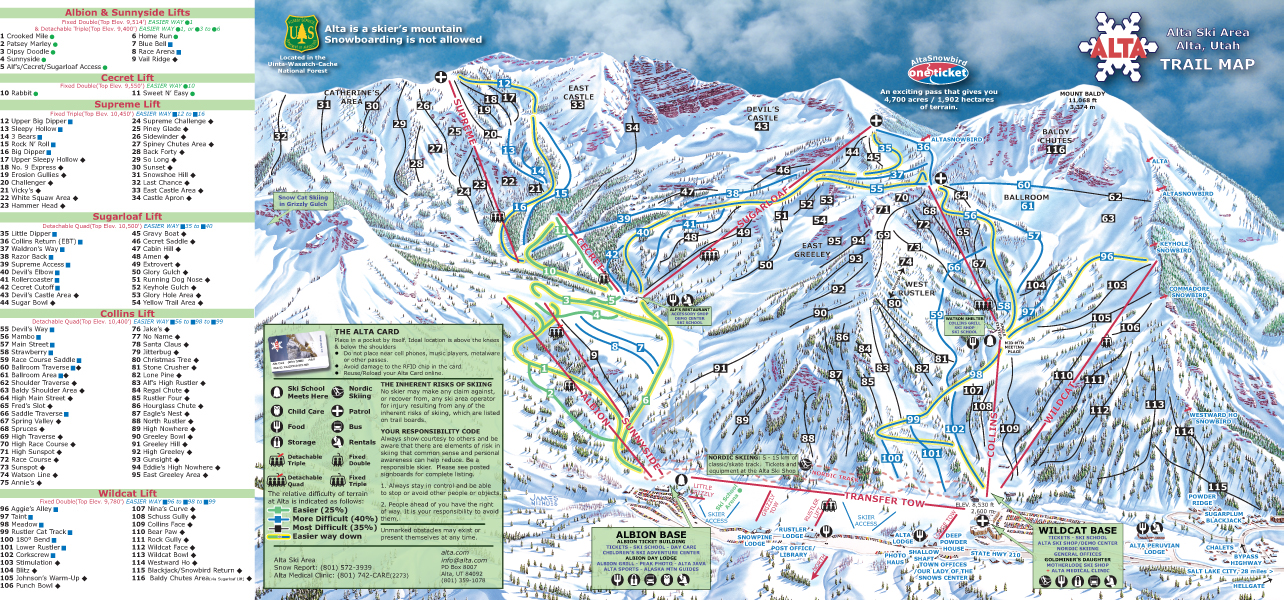 Alta Trail Map
Alta Ski Resort is located 9.2 miles up Little Cottonwood Canyon road. Although Alta's parking lot is 26 miles from Brighton's parking lot by car, they are only three miles apart on skis.
Alta includes the Albion Basin and Collins Gulch drainages. Grizzly Gulch is observer's left of Alta and the Snowbird ski area is observer's right. Alta can be used to access the Catherine Lake area, Dry Fork, and American Fork Canyon.
As with Brighton, Alta's high base elevation (8,530 feet versus Brighton's 8,775 feet) makes it a popular location for pre- and post-season turns. Keep in mind that ski areas do not perform avalanche mitigation when they are closed—it's almost inevitable that the first avalanche accidents of the year occur within ski area boundaries before avalanche control work has begun.
History
The town of Alta was founded in 1865 and was home-base to miners who worked in the nearby silver mines, including the Emma and Flagstaff mines. In 1872 Alta had 180 buildings, 26 saloons, and a population of 3,000. By 1880 the boom was bust and the population was down to 300 (about where it is today) and by 1930 Alta was virtually a ghost town with only six registered voters. Alf Engen was hired in 1935 to help create what is now Alta Ski Resort. Alta began operations in 1938 (two years after Brighton and Sun Valley). Read more about the history of Alta.